While the visuals are gorgeous, the Good Dinosaur doesn't quite live up to Pixar standards…
So what would happen if the meteorite that wiped out the dinosaurs actually missed? This is the premise of the film that was set up in the trailers, but wasn't actually fully explored in the feature. The Good Dinosaur focuses on a family of Apatosauruses, who, following on from millions of years of evolution, have become farmers…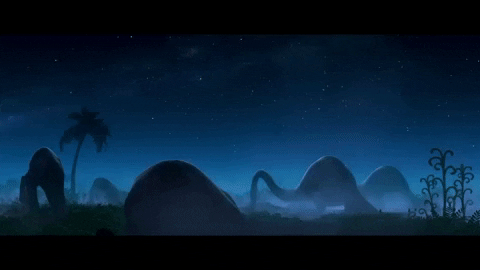 The family is made up of Momma and Poppa, and three kids; Libby, Buck and the youngest and smallest Arlo, who the film predominantly focuses on. Arlo is a lot smaller than his siblings and afraid of everything, but his dad sets him a task to try and get over his fears. This task is to catch and kill (yes, kill!) the 'critter' that is eating their winter corn crop. Except once the critter is actually caught in the trap, Arlo can't go through with it and the young human escapes. This action sees Arlo, following on from a tragic event (this is Disney of course…) lost and on a journey to get back home.
Arlo and the young human, who he names Spot (Jack Bright) quickly bond and Spot joins Arlo on his journey back. Considering it's a film about dinosaurs, the young characters come across hardly any on their passage, which I felt was a real missed opportunity. Bar the family of cowboy T-Rexes and the weird, trippy Triceratops of course…
As much as I wanted to love this film, I felt like it wasn't anything really new. It was always going to be tough to release a film so soon to the absolutely immense Inside Out. It definitely brings some amazing visuals though, I was so impressed with the landscape shots, I definitely had to look twice to see whether they were actually real! In particular I really enjoyed the scenes involving the fireflies…
It is a sweet and simple film full of heart with a delicate focus on the importance of family. In regards to the comparisons with Inside Out though; we do have to remember that, when it comes down to it, this is a film for kids, and I bet they will love it.
★★★