Writer: Matt Kindt
Artist: Doug Braithwaite, Juan Jose Ryp
Publisher: Valiant Comics
Release Date: February 10, 2016
Cover Price: $3.99
MI-6′s doomed rescue mission into a parallel dimension is in dire peril as Ninjak and Punk Mambo find themselves face-to-face with the one and only Shadowman! But what is the true nature of the man once called Jack Boniface…and has his time trapped amidst the Deadside's horrors stolen his humanity once and for all? A battle to save the soul of the Valiant Universe is about to begin – but even the good guys can't be sure if they're on the right side!
Writer Matt Kindt has cleverly split Ninjack #12 into two sections comprising of; Operation Deadside: Part 3 and The Lost Files: Legends of the Magpie. The volume opens with Operation Deadside: Part 3, continuing Ninjak and Punk Mambo's mission in Deadside to recover Fakir and capture Magpie
who kidnapped him. This mission began in Ninjak issues #10 and #11 and as Operation Deadside reaches its penultimate issue, the action is really starting to kick off!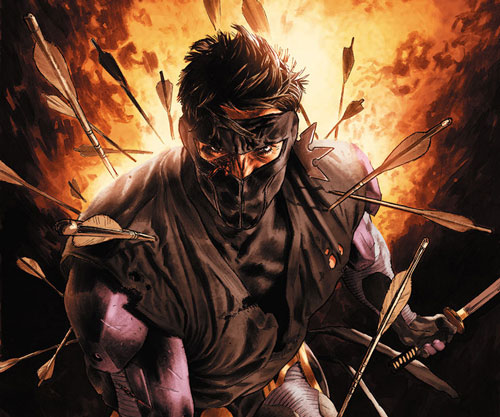 The issue opens with Operation Deadside: Part 3; Ninjak's MI-6 handler Neville and a commanding officer discuss the events that are happening via a debriefing displayed through the text bubbles while the action is kicking off. Kindt really nicely links together the Valiant Universe in this issue by bringing in fan favourite Shadowman and also mentioning Dr Mirage; this offers a great opportunity to explore the more magical/spiritual aspects of the universe. Kindt also immerses us in the Deadside through intricate landscapes and also some fantastic creatures and characters; this World has incredible potential to be explored in more detail in future issues. Oh and did I mention the insanely amazing and very Studio Ghibli-esque living and moving island?! Artist Doug Braithwaite and colorist Brian Reber do an excellent job of bringing this new World alive using vivid pinks, blues and orange, this also highlights the magical aspects of the story. The first part of the issue ends almost way too quickly though – I can't wait to see what happens next!
The Lost Files: Legends of the Magpie is a great installment for longtime readers as it has plenty of Easter eggs to enjoy! It is also really nicely ties in with Operation Deadside and I'm so intrigued to see how Kindt is going to connect the two stories in the next issue. Artist Juan Jose Ryp has a very different style to Doug Braithwaite; there's a lot more detail and depth to the illustrations in The Lost Files. Colorist Ulises Arreola uses far darker tones than Brian Reber do, but again uses vivid colours, in particular blues, yellows and reds, to highlight the magical elements.
Ninjak #12 is a great issue for both longtime Valiant readers, in particular Shadowman fans and also newer readers who enjoy the Ninjak character. However this issue isn't really new reader friendly, but you can easily catch up by reading Ninjak #10, but its definitely worth catching the start of this story arc!